Each term MWHCP publishes a timetable of low cost groups and courses available to women in the region to improve their health and well-being. A holistic approach to women's health is taken in putting together the timetable and incorporating all aspects of emotional, physical, financial and spiritual health. We also offer workshops on various special interest topics such as food and nutrition.
Please click the link below to download our current term timetable.
Term 4:
Term 4 will commence in October 2016. Please click the link below to download your copy: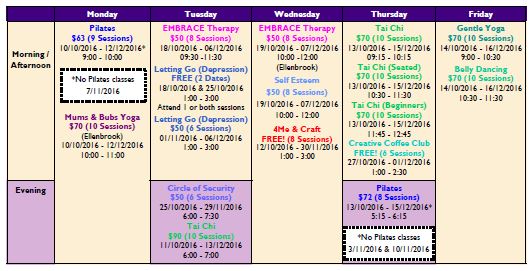 If you would like to receive a copy when new timetables are released, please subscribe to our newsletter. To subscribe please fill in your details at the bottom of the green menu bar on the right of your screen.